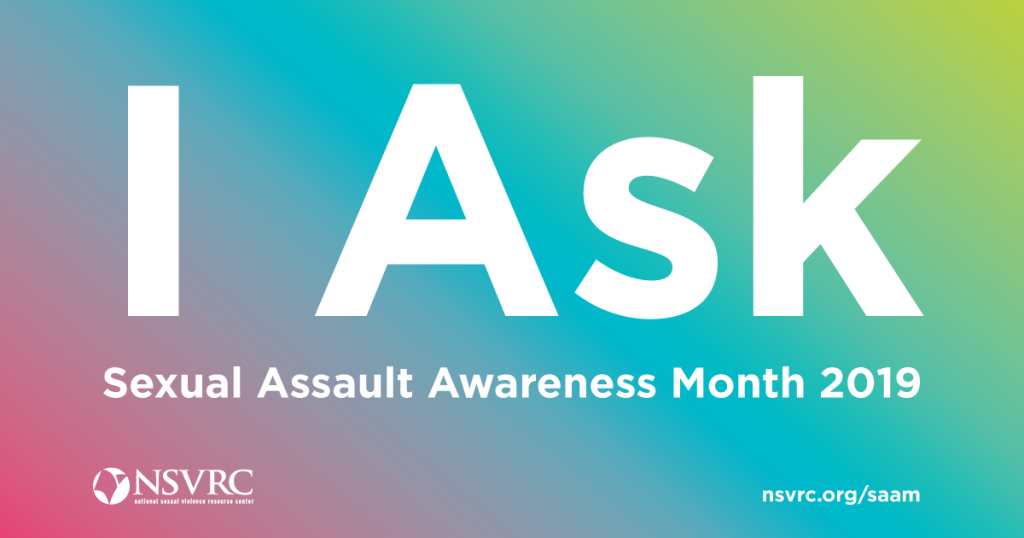 APRIL IS SEXUAL ASSAULT AWARENESS MONTH. JOIN NCEDSV AND PROGRAMS THROUGHOUT THE STATE AND COUNTRY TO ADVOCATE FOR SURVIVORS AND CELEBRATE THE 2019 THEME "I Ask"
You can learn more about SAAM through the National Sexual Violence Resource Center's (NSVRC) website. Additionally, please join us in promoting public awareness of sexual assault prevention and response through your social media outlets (Twitter, Facebook, etc). NCEDSV will post relevant SAAM-specific content via our social media presences throughout the month, which you can share to your pages to help raise public awareness. Additonally, these posts can be easily modified to include links to your own websites and resources, and shared with your own audiences. Follow us on Facebook, Twitter, and Instagram.
Check the calendar below to see all the events happening across Nevada. Join in the events nearest you!
Visionary Voice Award Reception: Clarice Charlie-Hubbard (April 24)
NSVRC offers the Visionary Voice Awards, in conjunction with Sexual Assault Awareness Month each April, to recognize the creativity and hard work of individuals around the country who have demonstrated outstanding work to end sexual violence. Each year, state, territory, and tribal coalitions select an outstanding individual to nominate for the awards. Nominees may be partners from a local community or other outstanding individuals that have worked to end sexual violence.
National Crime Victims' Rights Week April 7 - 13
Also in April, the Office for Victims of Crime hosts a week of awareness and look to a future of crime victim services that is even more inclusive, accessible, and trauma-informed.
Visit their page for resources to help spread awareness. 
GLSEN's Day of Silence, on April 12th 2019, is a student-led national event where folks take a vow of silence to highlight the silencing and erasure of LGBTQ people at school.
Visit the GLSEN website to get tips of organizing a Day of Silence event at your school, and to register your Day of Silence event. 
Please let us know about your organization's SAAM events so we can help promote them. send events by email to Communications Coordinator Sara Conrad . 
Wear Teal Day April 2
National Crime Victims' Rights Week April 7-13
Anti Street Violence Week April 7-13
Day of Silence April 12
Denim Day April 24
Visonary Awards Reception for Clarice Charlie-Hubbard April 24
COMING SOON! ORGANIZATION SAAM EVENTS ACROSS NEVADA.