Advisory Committee – Individuals with Developmental Disabilities
NCEDSV THANKS THE STATEWIDE ADVISORY COMMITTEE FOR ITS WORK
PREVENTING SEXUAL ABUSE OF YOUNG PEOPLE WITH DEVELOPMENTAL DISABILITIES
NCEDSV Prevention Campaign
News
WHAT: Ayudar a Padres Reconocer y Responder al Abuso de Relaciones y Agresión Sexual Contra Jóvenes con Discapacidades del Desarrollo, un seminario web presentado por Nevada Coalition to End Domestic and Sexual Violence
WHEN: viernes, 29 de mayo de 2020
11:30AM-1:00PM
Este seminario web está diseñado para padres que tienen hijos adultos jóvenes con discapacidades del desarrollo. Durante esta presentación, los padres y partidarios aprenderán acerca de los factores de riesgo que contribuyen a que sus hijos sean más vulnerables al abuso de las relaciones y las agresiones sexuales, así como el alcance del problema en los Estados Unidos.
Como padre y partidarios, aprenderá maneras de reconocer el abuso y cómo proporcionar apoyo al responder a una divulgación. Los recursos se compartirán para que los padres y partidarios puedan iniciar conversaciones sobre la prevención del abuso de relaciones, las agresiones sexuales y la promoción de relaciones saludables.
Esta publicación es apoyada por la División Estatal de Salud Pública y Conductual de Nevada a través de la Subvención Número NB01OT009309-01-00 de los Centros para el Control y la Prevención de Enfermedades. Su contenido es exclusivamente responsabilidad de los autores y no representan necesariamente las opiniones oficiales de la División ni de los Centros para el Control y la Prevención de Enfermedades.
On March 31, 2020, NCEDSV hosted an 1.5 hour webinar titled, "Helping Parents Recognize & Respond to Relationship Abuse and Sexual Assault Against Young People with Developmental Disabilities."
View webinar Powerpoint slides here.
Handouts available below:
This webinar discussed the issues facing young people with developmental disabilities who are vulnerable to sexual assault and may be struggling in unhealthy relationships. Participants learned strategies on how to help and also learned about services available in their community.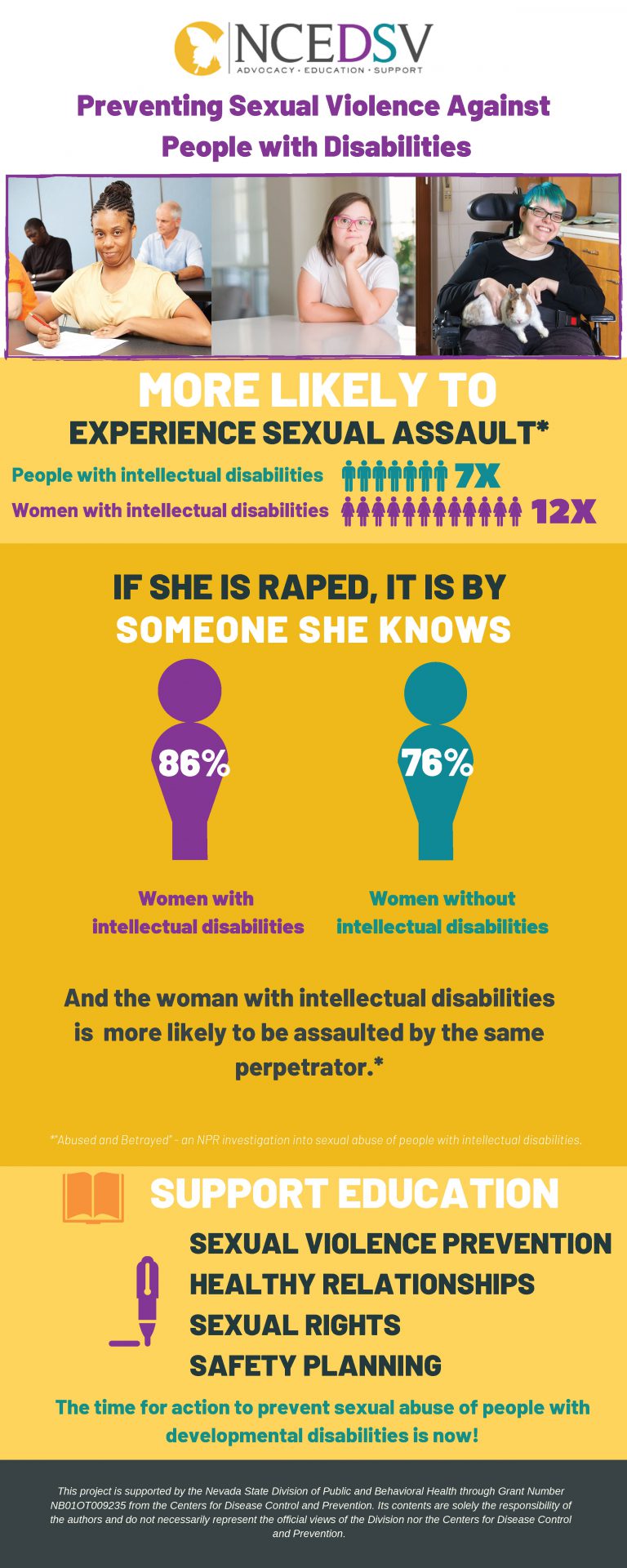 This project is supported by the Nevada State Division of Public and Behavioral Health through Grant Number NB01OT009309-01-00 from the Centers for Disease Control and Prevention. Its contents are solely the responsibility of the authors and do not necessarily represent the official views of the Division nor the Centers for Disease Control and Prevention.