OPEN INVITATION TO JOIN ADVISORY COMMITTEE:
PREVENTING SEXUAL ABUSE OF PEOPLE WITH DEVELOPMENTAL DISABILITIES 
JOIN THE STATEWIDE CALL! NCEDSV is bringing people together to create educational materials to bring awareness to and discuss strategies to prevent sexual assault of individuals with developmental disabilities. We are hosting statewide virtual meetings to discuss the issues facing individuals with developmental disabilities who may be struggling in unhealthy relationships and are vulnerable to sexual assault.
Our goal is to engage members of an advisory committee who will be meeting monthly to help guide the project development focusing on prevention, supporting survivors, improving access to services, and identifying and enhancing available resources.
WHO:
Parents of Youth (ages 12-24) with Developmental Disabilities;
Self-advocates; and
Direct Service Providers
JOIN THE STATEWIDE CALL Sept. 18
AGENDA TOPICS: 
Review DRAFT awareness materials that focus on the prevention of sexual violence against young people with developmental disabilities;
Continue to identify resources that are currently available and what additional information/resources are needed by parents, self-advocates, and support staff on how to recognize unhealthy, abusive relationships as well as knowing what constitutes healthy, consensual relationships.
An Open Forum 75 min.
As a group we will be determining not only the content of these educational materials, but also what format would work best for parents and guardians, self-advocates, and support staff and then discuss the process for developing these educational materials.
To meet this goal, we need you to help us with this project and give us ongoing feedback through the developmental phase. Your commitment involves your active participation by attending monthly virtual meetings. Contact Judy Henderson judyh@ncedsv.org to sign-up and receive DRAFT documents currently being reviewed and links to our web page.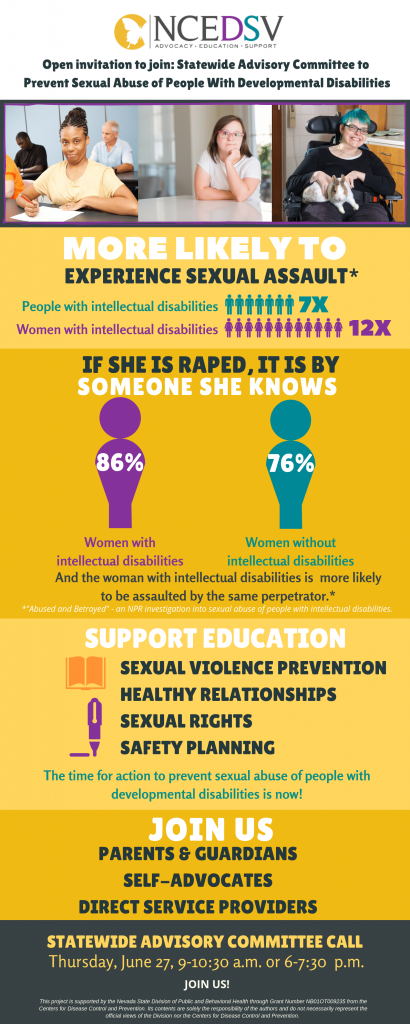 JOIN THE STATEWIDE CALL Sept. 18
This project is supported by the Nevada State Division of Public and Behavioral Health through Grant Number NB01OT009235 from the Centers for Disease Control and Prevention. Its contents are solely the responsibility of the authors and do not necessarily represent the official views of the Division nor the Centers for Disease Control and Prevention.